With home improvement resources plastered all over the internet and technology at our fingertips, homeowners have access to more information than ever. When it comes to home improvement, visualizing changes to the interior or exterior of your home can be challenging for most. Thankfully, the technology gurus and home industry professionals have teamed up to design some pretty awesome apps for homeowners. Here are a few of our favorites:
Houzz: There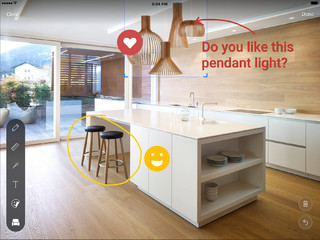 's a reason why Google selected Houzz as a Google Play Best App Award Winner! Houzz, the go-to website for homeowners on a quest for the perfect contractor or sofa has created one of the most useful apps on the planet. You can virtually insert thousands of decor items into your home with the View in My Room feature. Want to collaborate with a spouse, friend or your interior designer? The Houzz Sketch feature allows you to write, type, add Houzz items or stickers to a photo for quick feedback. You can interact with millions of home improvement professionals (Be sure to follow Care Free Homes, Inc. on Houzz!) such as contractors, designers, and architects. Houzz is truly the ultimate virtual destination for homeowner inspiration. Be sure to download the Houzz app for your iPhone/iPad or your android smartphone/tablet!
Pinterest:
DIY tips,
recipes, workouts, home remedies, landscape ideas, home improvement and more! You will discover everything and anything on Pinterest!  Create virtual boards where you can upload your own images, collect photos from the online universe or re-pin images from other Pinterest users. (
Care Free Homes has over 80 boards and 7,000 pins on Pinterest!
) You can be as general or as specific as you want! Create a "home improvement" board or get into the details by creating a "siding" board, "window" board, or "paint colors" board. It is a great resource for collecting ideas – kind of like clipping pictures from your favorite magazine without the clutter! Start pinning to
day by downloading the Pinterest app in
iTunes
or in the
Google Play Store
!
Benjamin Moore, Color Capture: Have you ever loved the color of a vase or fabric? Did you wish that color could be on your walls with the perfect paint color? Well, look no further! Benjamin Moore, our preferred paint as a home builder, has created an amazing app that matches the color of objects in a photo to one of their 3,500 paint colors! You can save favorite colors and make your own color combinations for a custom palette (app features may differ for iPhone to Android) Access the Benjamin Color Wheel to discover which colors work best.
So have fun starting your next home improvement project! Get inspired and download these fun homeowner apps!